Gurucharanam…
गुरुर्ब्रह्मा गुरुर्विष्णुः गुरुर्देवो महेश्वरः ।
गुरुरेव परंब्रह्म तस्मै श्रीगुरवे नमः ॥

Brahmasree Puthumana Sreedharan Nampoothiri
(Supreme Priest (Thanthri) 1000 of Temples in India)

Brahmasree Kuuzhikkattillathu Akkeeraman Kalidasa Bhattathiri
(Supreme Priest (Thanthri) 1000 of Temples in India)

Brahmasree Kunjukrishnan Nampoothiri
(Former cheif priest, Puthenkavil Devi Temple, Kurampala)

Dr. P.V. Viswanathan Nampoothiri
(Reader, Dept. of Sanskrit) Baselios College, Kottayam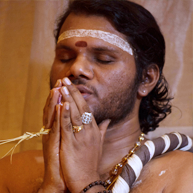 Innately bestowed with the blessing to be fortified with great legacies, Brahmasree Sreejith Nampoothiri was born in 1984 in a Brahmin family as the elder son to Brahmasree Narayanan Nampoothiri and Sreekaladevi Antharjanam.
Sreejith Nampoothiri today is an eminent personality who is not only famous for his unparalleled knowledge in the niches of Tantrika, Mantrika and Jyothisha but also for preparing laudable and potent yantras that are capable of magnetizing positive energy and divine aura around the bearer.
Author of many valued books, the intellectual personality specializes in conducting a wide varities of Poojas and Homas worldwide. He is as of now indulged in researching Kali concept of Kerala and Yantra Vidhi. The studious character made him to get edified under various reputed Tantrikacharyas of Kerala along with the regular academics.
Sreejith Nampootiri who was always passionate about spiritual science and Vedic culture garnered impeccable level of proficiency in Mantrik, Tantrik Shastra and Astrology at a very young age of 13. In fact his very first book in Malayalam named Achaaraanushtanangal was published when he was just 18 years. The process gave him huge opportunities to closely associate and interact with numerous renowned astrologers, healers and tantrics who appreciated his work and guided him in the right direction of serving the mankind.
The services and aptitude of Sreejith Nampoothiri spread even to overseas in course of time and a lot of people from different geographical locations started approaching him for guidance and assistance. Also his Spiritual Centre soon metamorphosed into a hub for research by foreign nationals.
Being compelled by entities around him and with an inner urge to spread the divine knowledge, he launched a website named www.mantrikyantras.org which contained his articles; at that time he was only 22years old. The website soon got worldwide acceptance and appreciation.
Inspired by this acceptance, he along with a group of expert Vedic scholars instigated an organization named ASTRO TANTRIK RESEARCH CENTRE popularly known as ATRC. It is registered as a Non-Profit Organization that guides people free of cost & offers them spiritual assistance for improving their life in all aspects. The organization published numerous free books like Upasana Mantras, AstotharaShatakam and Mantrasamhita . An English book named An Ultimate Spiritual Therapy got good response in India and abroad. And his articles like Devapratishta and Shadadharapratishta were published in many magazines. ATRC distributes books and avail training to kids who hail from poor financial background.
Year 2009 was a turning point in the life of Sreejith Nampootiri when he was awarded Jyotishabhoosanam by Jyotisha Padana Kendram, Cochin. In 2010, he published his mantra Audio CD named Astotharashathakam and following that several CDs was published and all are now available in his YouTube Channel. In 2011, he was honoured with Jyotishatantrikashresta from Gandhi Cultural and Welfare Centre (New Delhi). Later on he received Ph. D from International Open University in Tantra and Yantra.
Today people and organizations from around the world invite him to conduct poojas, yagyas, Yantra Exhibitions and for various spiritual consultations.
He nowadays regularly visits Moscow, Malaysia, Mauritius and other European countries for Astrological consultations, counselling and to conduct Tantrik-Vedic Poojas and other ceremonies.
His knowledge is reachable to Devotees through mobile application ASTROTANTRIK.
Trusted Members & Associated Member

Premjith Nampoothiri
Managing Priest

Manoj V. Nampoothiri
Priest,Associated Member